IN MEMORY OF OUR FOOD SERVICE KIA BEIRUT, LEBANON       1982-1984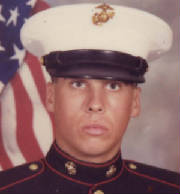 CPL JAMES F SILVIA

   H&S 1/8

KIA 10-23-83



I Will Remember You

You were my older brother, always protecting me

As I was the youngest member of your family tree.

All I can remember, are the words you said to me

"A Soldier in the United States Marines is all I want to be."

Mom had strong words for the young Recruiter that came

"You can have my Son, but for any harm it's you that I will blame."

Mom said she would not worry, as God would heed her call

Remembering your goodbye, "I truly love you all".

We never knew when or if you would come back to us

But Mom said "Believe. in God we all must trust".

The times were very different then, the world we could make free

So off you went so gallantly to be all that you could be.

"The Peacekeepers" they called the Marines that served in Beirut.

Always in harm's way, with orders not to shoot.

Sadly you were one of the 241 that perished on that day

While serving your Country true wherever the mission lay.

Your picture shows a young man, a Marine standing so strong and tall

Now that's all we have left, hanging proudly on our wall.

While you are sadly missed, especially by me, the life you gave

Brings meaning to the words, "Land of the Free and Home of the Brave".

I will speak of you today and all my living years

Even though each time I do I have to hold back tears.

For the sacrifice you made, "To serve and to protect"

WE WILL ALL REMEMBER AND PROMISE NEVER TO FORGET.

Your memory will live on, A Marine.The Few, the Proud

Even though now you sit with the Angels high atop a cloud.

By: Lis Mullen ( Cpl. James F. Silvia's Sister)

For his 41st Birthday May 2004

Beirut Memorial salutes fallen Marines

     PORTSMOUTH - Marines today have plenty of "unfinished business," said

Maj. Stephen Armes, addressing a crowd at Portsmouth's annual Beirut

Memorial ceremony. And the war on terror, he said, is as strong a battle as

it was in 1983, when 241 Marines were senselessly killed in the Lebanon

bombings.

     Each year families of fallen Marines gather at the town's historical

society to honor the nine Rhode Island Marines killed in the attacks and

keep their spirits alive. And retaining their memory is a responsibility the

Portsmouth Beirut Marine Memorial Committee feels honored to have.

     "Today we are again in conflict with some of the same terrorist groups

that cause the Beirut barracks bombings, ambushing our military in Iraq

almost daily with car and suicide bombs. Beirut has become lost in history

for most people," said committee chairman Shirley Zdanuk.

     The 30-minute ceremony included a ceremonial unit of the Navy band,

Marine Color Guard, a chaplain and key marine speaker from the Naval War

College - Maj. Armes.

     "Today marks the date, 22 years ago, that we lost our fellow marines

in Beirut, and we pause to reflect on the legacy that they have passed down

for this great country of ours," Maj. Armes said.

     Five families of the nine fallen Rhode Island marines were on hand for

ceremonies Sunday. Among those honored were Cpl. Rick Crudale, Sgt. Timothy

Giblin, Cpl. Edward Iacovino Jr., Lance Cpl. Thomas Julian, Cpl. Thomas

Shipp, Cpl. Edward Soares Jr., Cpl. Stephen Spencer, Cpl. David Massa and

Cpl. James Silvia.

     Ms. Zdanuk promised families 22 years ago that Rhode Island would

always remember the sacrifices those marines had made. The annual event

concluded with a ceremonial wreath laying at the historical society's

memorial grounds.

     Paying homage and remembrance to those who give, is a country's duty,

said Maj. Armes in closing words. "The mark of a civilized society is that

it holds life sacred, that its citizens serve to protect it, and that it is

remembered."

     BY JASON TURCOTTE

     jturcotte@eastbaynewspapers.com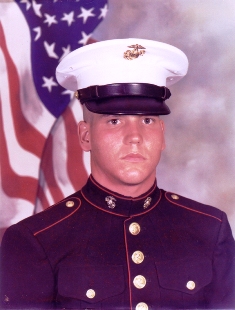 Cpl Stephen E Spencer

   H&S 1/8

KIA 10-23-83

Note: Jim and Stephen were Brother-In-Laws by marriage,  Jim's  Sister Lynne (Silvia) was married to Stephen Spencer.

E-Mail me if you know of any other Food Service Personal KIA Beirut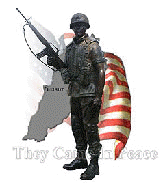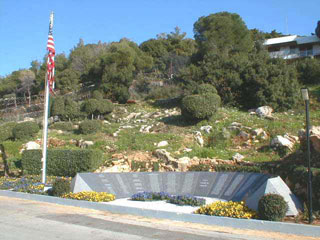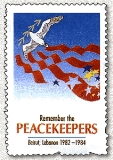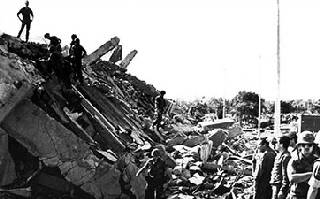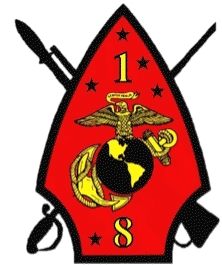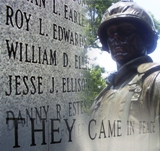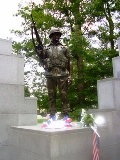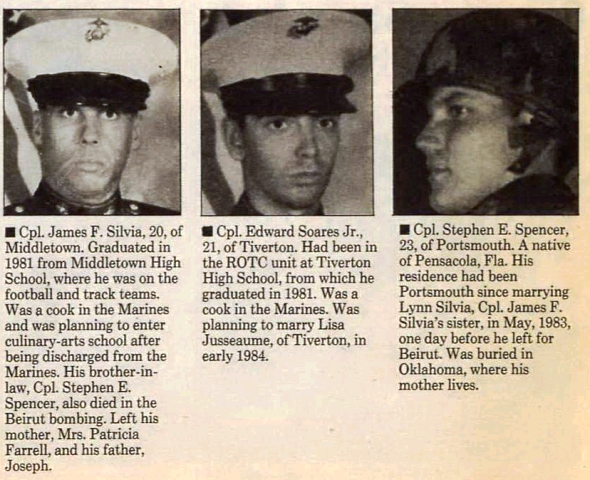 article provided by Lis Mullen


I met Ed on Okinawa, I believe it was 1979. He was assigned to MASS-2 S-4

shop because they did not have a billet for him at the Mess Hall. He was

with the duece for several months and then was reassigned to a Mess on Camp

Foster (the old Ft Buckner). He was killed in the Beirut bombing in 1983.

I'm putting together a memorial page for him and need some help from anyone

who may have known him. We were great friends but actually know little about

his service time. I'd appreciate anything you can do to help me out. Thanks

1stSgt Dave Straub Ret 63-88

GYSGT EDWARD E KIMM

   ATLANTIC, IOWA

        KIA 10-23-83


checked out your updates on the fallen cooks, looks good, saw Eddy's picture

and saw a quick note from a David Straub, looking for anyone that knows gy

Kimm. want to hear something ironic? Never got to meet gy Kimm, but my

brother and Stephen used his car every weekend, and drove from Lejeune to

R.I. for liberty weekends. Amazing what a small world it is. Stephen and

Jimmy thought the world of him. sorry i never got to meet him. have a good

day and thanks again for the site. Lynne (Sylvia) Spencer

.

.KEOWN, THOMAS C   Sgt. 1977-83

Birth Date: 25 Aug 1960  

Death Date: 23 Oct 1983  

Issuing State: KY

SSN: 404-96-5034

JACKOWSKI, JAMES J  Cpl  1981-83

Birth Date: 19 Aug 1963   

Death Date: 23 Oct 1983  

Issuing State: NY

SSN: 095-62-8231

HAIRSTON, THOMAS A.   Cpl 81-83

Birth Date: 19 Jul 1963   

Death Date: Oct 1983   

Issuing State: PA

SSN: 171-56-1829

LAISE, KEITH J

Birth Date: 14 Jan 1963   

Death Date: 23 Oct 1983   

Issuing State: PA

SSN: 170-54-2446

LANGON, JAMES J     Pfc

Birth Date: 11 May 1963   

Death Date: 23 Oct 1983  

Issuing State: NJ

SSN: 154-58-2982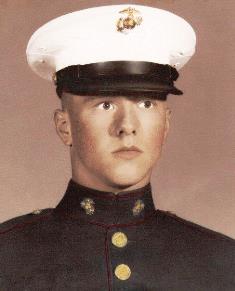 GySgt. Ed Kimm

@ June Griggs/Sister