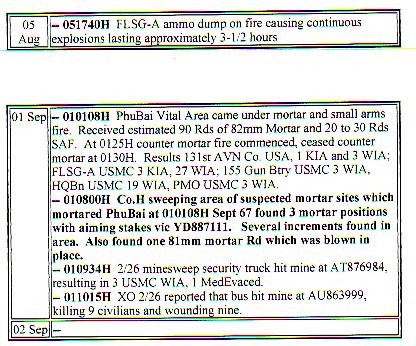 This info is from Cmd Chrons by H 2/26. It states 3 Marines from FLSG-A were KIA, although I located a fourth. It lists 1 USA KIA, but after checking there were no USA  KIA in Thua Thien Prov that day. I am working on this as time permits but I feel 4 FLSG-A personal were KIA along with 27 others WIA. Link below to H 2/26 site.

CPL     JACK L BUCHANAN        3051, FLSG-A SUPPLY 25E 76

L/CPL  TIMOTHY B CALDWELL 3051,FLSG-A SUPPLY  25E 80

L/CPL  JOHN M HALEY               1341,FLSG-A MAINT     25E 77

S/SGT WILLARD R KNIPPERS    3531,FLSG-A Maint       25E78

Received a E-mail from a S-2 Marine who arrived in county shortly after this incident- He recalls a sign placed in honor of L/Cpl Caldwell and Cpl Buchanan.If he can locate picture of sign, going to send it to me.

3-7-05 Located page from unit diary,below,with list of WIA's from this incomming attack. best copy I could make, H&S Company FLSG-A, 3rd Service Bn date 4 Sept 67.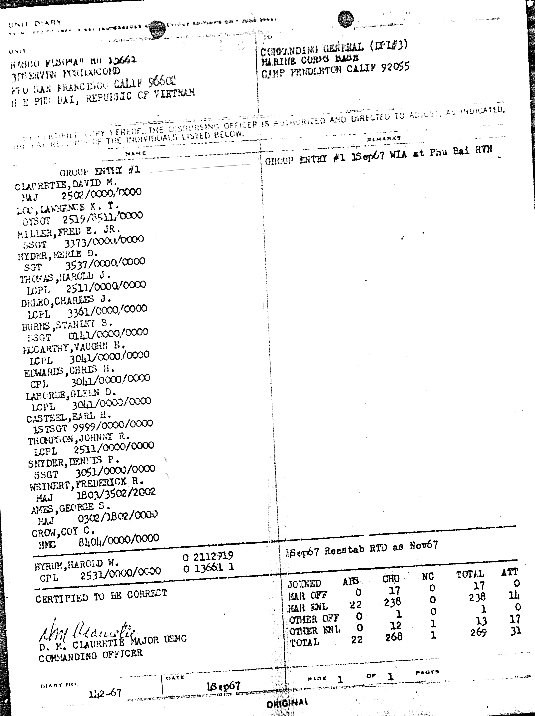 Supply Company:

Cpl  Archuleta, Daniel P

LCpl Hernandez, Aumont

Sgt James, Nathaniel W Jr

LCpl Jefferson, Richard J

Pfc McCoy, Jimmy L

LCpl McDuffie, Glenn E

Pfc Pojman, Gregory J

Cpl Swanson, Robert L

LCpl Tenny, Scott E

Another  H&S Company

HMC Lorino, Jacob E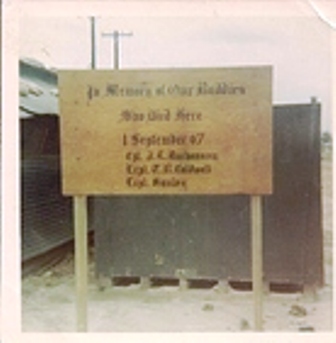 Ref: Knippers,Haley, Caldwell & Buchanan                                   21 Jan 2010

Lcpl Haley is listed as a member of Supply Co. but he was a member of Maint Co. When the attack occured he was on guard duty, Cpl Buchanan & Lcpl Caldwell were on duty at the rations office. They were all killed by the same round. SSgt Knippers was hit in the SNCO billiting area.

The majority of the rounds fired that night were aimed at the FLSG-A billeting area not any strategic targets. (Correction Made)  Olin Robertson