Cpl Rusty Washam

  KIA 14 Feb 06 Iraq

To all, FYI.  Let's keep all our deployed Marines in our daily thoughts and prayers.  To my knowledge, this is the first Food Service Marine that has lost his life in OIF as a result of enemy action.

Semper Fi,

Major Richard D. Bedford

Commanding Officer

Marine Corps Detachment

Fort Lee, Virginia 23801

Subject: FW: Prayer for these Marines

All,

I thought I would let you all know that one of our instructor brethren is having a rough time right now and we lost one of our Food Service warriors doing what we do best. What ever the Marine Corps needs! If you have the time lets give SSgt. Allen a shout out as only Ft. Lee people can. Thanks.

R/S

Warrant Officer J.L. Fore

"Cooks in the wire!"

It is with a heavy heart that I pass this information to you all. One of our Marine Corps brothers and fellow food service Marines has passed away. Please say a prayer for him and the other Marines that have lost their lives for the freedom of our great country.

About 1200 on Valentines Day Cpl Washam was killed in a Suicide Vehicle Improvised Explosive Device. Cpl Washam was one of my cooks and a great Marine. He was on the Security Detail for our Commanding Officer and they were driving back after dropping the CO off at one of our battle positions. A suicide bomber drove his vehicle into the side of the humvee (which was the last in the convoy) and he was killed on impact; the Corpsman on scene said he didn't suffer. Cpl Washam is married, has 2 children and is from Tennessee. We had a Memorial Service for him this morning and his family has been notified. He will be greatly missed by all the Marines in this unit and all those that knew him.

Thank you all for the prayers and remember that he gave his life and paid the ultimate sacrifice for our country, he is truly an American Hero.

SEMPER Fi

SSgt Allen, W.L.

Bn Mess Chief

3rd Bn 6Th Marines

Marine's birthday call his last

Dies after Humvee hit by IED near Syria

By LOLA ALAPO, alapol@knews.com

February 16, 2006

Beverly Washam on Saturday gave birthday greetings over the phone to her

son, Marine Cpl. Rusty Washam, who was stationed in Iraq.

It was his 21st birthday.

The two chatted about his life in the Middle East and goings-on in his

Huntsville, Tenn., home.

"It was a real clear line that day," Washam said Wednesday. "I have talked

to him before and it was real fuzzy. But that day, his voice was real

clear."

His last words to her: "I love you, Mom."

Military officials Tuesday evening notified Washam and her family that her

youngest son had been killed as he was driving a Humvee.

Washam died when an improvised explosive device struck his Humvee, Beverly

Washam said. He and a fellow Marine in the vehicle were killed, she said.

Both Marines were wearing all their protective gear, she said.

"I never dreamed this could happen," she said. "I thought, 'Let him be

hurt,' and that's it. I just want him back. He's my baby."

Washam, a member of the 3rd Battalion, 6th Marine unit based in Camp

Lejeune, N.C., had been in Iraq since August, his mother said. When last

they spoke, he told her that he was near the Syrian border. He was expected

to return to East Tennessee next month.

"He was so excited about coming home," his mother said.

Since the war began, 2,265 American soldiers have died, including 46 from

Tennessee, according to the Associated Press War Casualty Database.

Washam was a 2003 graduate of Scott County High School, where he played

football. He joined the Marines shortly after graduation.

Washam was the son of retired Army Master Sgt. Sonny Washam, who spent 24

years in the military.

Washam was one of three brothers serving in the military, each in a

different branch.

A brother, Cpl. Dustin Washam, is in the Army. He was wounded in Iraq last

June. He sustained a foot injury, his father said.

Another brother, Staff Sgt. Donny Washam, is in the Air Force.

Washam leaves behind two sons, Ryan 4, and Andrew, 2.

Funeral arrangements were incomplete Wednesday evening.

"He was an honorable young man," Beverly Washam said. "He was proud to be a

Marine. He worked hard at being a Marine."

Lola Alapo may be reached at 865-342-6376.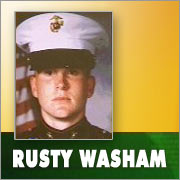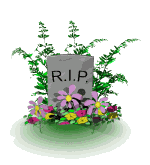 Sonny and Beverly Washam were at dinner celebrating Valentine's Day

together, when Marines first came with news of their

     son's death Tuesday night.

     Corporal Rusty Washam of Scott County was killed in Iraq Tuesday,

hours after family members say they e-mailed back and forth with him.

     "I was so hoping when they came last night they'd just tell us he was

hurt," Beverly shared Wednesday. "You know, I could deal with that."

     The family says they were told Washam was thrown from the Humvee he

was driving, when a roadside bomb exploded.

     Washam and another Marine were reportedly killed instantly.

     "He was just proud," Washam's mother said, holding pictures of her son

at the kitchen table. "He was a very proud Marine."

     Rusty Washam, the father of two- and three- year old sons, was the

youngest of six brothers and sisters.

     All grew up in the military, while their father spent 24 years in the

Army.

     Rusty, who joined the Marines straight out of Scott County High School

in 2004, turned 21 in Iraq last Saturday.

     "I talked to him Saturday," Beverly explained. "He said everything was

quiet, and he was looking forward to coming home. Before he got off, he said

'I love you, Mom.' I told him several times I loved him, and I did. I loved

him so much."

     Washam was expected home in April, after completing almost

back-to-back tours in Afghanistan and Iraq.

     But family and friends gathered in Huntsville once they learned of his

sudden death.

     Rusty's eldest brother Donnie flew home from Oklahoma, where he is

stationed with the Air Force.

     Dustin, who followed his father's footsteps into the Army, also came

home.

     Both trying not to think about what their youngest brother may have

gone through.

     "The aftermath of the car bombs, IEDs (Improvised Explosive Device),

I've seen them," Dustin explained. "I know exactly. I can picture in my head

what it was."

     Dustin came back to the U.S. after he was shot in the foot by friendly

fire last summer.

     He admits he will likely return to Iraq.

     While he's concerned, he's more worried about his parents right now.

     "That's the only thing I thought," he said. "I thought of mom and dad

when it first happened."

     "To lose a child is so hard, it hurts so bad," Beverly Washam said,

holding back tears.

     Dustin and Donnie Washam hope to escort their brother's body home.

     All three boys played football at Scott County High, wearing number

84.

     Funeral arrangements are pending.




February 21, 2006

By ADAM LONGO

6 News Reporter

SCOTT COUNTY (WATE) -- The body of a Scott County Marine has been returned

to East Tennessee Tuesday night.

Cpl. Rusty Washam's body was flown from Dover, Delaware to McGhee Tyson

Airport.

People from Scott County came by the bus load to pay their respects at the

airport. "Everybody loved Rusty, everybody. He was a good boy," says his

sister, Michelle Washam. "It's the worst thing I've ever had to do. The

hardest thing I've ever had to do."

His friend, Dusty Hatfield, says, "It's just hard to believe that he's gone.

We used to see and talk to him all the time. He's a very intense person and

we love him. We'll all miss him for sure."

Another friend, Alex Lowe, says, "He was a great person, always talkative,

never had nothing bad to say, just an all around good person."

Family and friends waited outside the airport gates as a military honor

guard put Washam's coffin in the hearse.

Washam was killed earlier this month when the vehicle he was riding in was

hit by a suicide bomber. He was in the Al-Anbar province, northwest of

Baghdad.

"We communicated with him almost every day," Michelle Washam says. "We had

MSN messenger and Yahoo. I chatted with him the night before."

He had just turned 21 and was recently promoted to corporal.

Washam had been overseas since early last fall. He was serving with the 3rd

battalion, 6th Marines out of Camp Lejeune, North Carolina.

The Washams have two other sons in the military. One is in the Army and one

is in the Air Force. Rusty was the youngest.

Washam attended Scott High School in Scott County.

His company was scheduled to return to the states in March.

A candlelight vigil welcomed Washam's family when they returned to Scott

County from the airport.

A roadside bomb took the life of Lance Corporal Rusty Washam last week. The

Huntsville native and father of two had just turned 21.

58 friends and family members packed a Scott County school bus for a trip

they never imagined making. As they watched flight 617 park near gate 5 of

McGhee Tyson Airport, marines took the casket of their friend and loved one

and loaded it onto a hearse.

"Just tells you what kind of person Rusty was," his Cousin Erian said. "He

was loved by a lot of people. He was a great person."

Randy Smith agrees, even though he never met Corporal Washam. Smith drove

from Illinois to pay respects to the father of two, riding a motorcycle that

will flank the hearse back up to Scott County.

"We need to honor these guys," the former Vietnam Veteran said. "He put his

life on the line and paid the ultimate price,"

It is a lesson family and friends of Corporal Washam have learned all to

well. As the group made the long walk back to their bus, heads were held

low, and dry eyes were hard to find. As faces show the pain of loss, hugs

showed the power of healing. Randy and Erian got a chance to meet for the

first time, embracing like two old friends. Both seemed to know what the

other is going through.

"Very proud," Randy said of the Corporal Washam.

"He makes you want to be a Marine," added Erian.

Visitation is Thursday from 2 until 8 at the Four Oaks Funeral Home in

Huntsville. The funeral will begin at Friday at 11 at the Fairview

Missionary Baptist Church. Burial will follow at Fairview Memorial Gardens.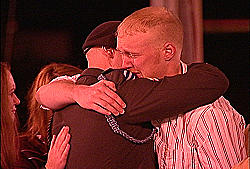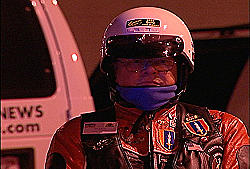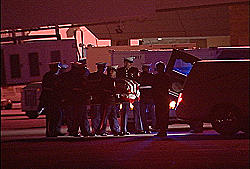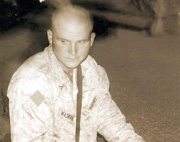 Huntsville, Scott County (WVLT) - Family and friends of Marine Lance Corporal Rusty Washam are gathering tonight to pay their respects.

Volunteer TV's Whitney Daniel is in Huntsville for the funeral and how the community dealing with the loss?

The community is bursting at the seams with support.

First, as you drive in the Fairview community on Highway 63, you're met with flags.

Home made signs are in each intersection, saying things like "We Honor Rusty" and "Our Hero."

As you drive into Huntsville, it's even more overwhelming.

The community is covered in flags lining the roadway and businesses have signs reading "We'll Miss You."

The entire community is pulling together to honor their own Rusty Washam.

Honor. Courage. Commitment.  Those characteristics define a Marine, but to Lance Corporal Rusty Washam's closest friends, he was that and much more.

"Rusty was the kind of guy you'd want to hang out with.  He always put a smile on your face.  He was a great guy all the way around," says Private Chad Epperson, a friend of Washam's.

Even those who didn't know Rusty came by to pay respects to the man who gave his life for their freedom.

This couple didn't realize that have family in the area until Rusty's death.

"You ought to be proud of all the soldiers, that's what keeps our country together," says JT Washam.

As a Marine, rusty joined a brotherhood, but the Washams have a military legacy of their own.

"The whole, the whole family is military oriented.  It's been a family tradition," says family friend Randy Tyree.

Through that tradition and his honor, his courage, and his commitment, rusty has become a hometown hero.

"I'm very proud of him.  I'm going to miss him a lot," says Pvt. Epperson.

Funeral services will be held Friday morning at eleven at the Fairview Missionary Baptist Church, with burial following at Fairview Memorial Gardens.


SCOTT COUNTY (WATE) -- The family of Scott County Marine Cpl. Rusty Washam received friends in Huntsville Thursday.

So many people attended that the sheriff's department directed traffic to Four Oaks Funeral Home.

Inside, there are displays of pictures and trophys from Washam's life, along with many floral arrangements in red, white and blue.

"I'm glad to see people showing support. I think that everybody needs to show more support in what they do. They deserve it. They're fighting for us," Washam's cousin, Jacob Massey.

"He was proud of what he was doing. He was glad to be over there. He was sure he was making a difference," Massey adds.

Scott County schools will be closed Friday so families could pay their respects. Outside the schools Thursday, there are flags and many signs for Washam and his family. Washam attended Scott High School.

There's a service at 9:00 a.m. Friday at Four Oaks Funeral home. The funeral service is at 11:00 a.m. at Fairview Missionary Baptist Church.

Washam was killed earlier this month when the vehicle he was riding in was hit by a suicide bomber. He was in the Al-Anbar province, northwest of Baghdad.

He had just turned 21 and was recently promoted to corporal.

Washam had been overseas since early last fall. He was serving with the 3rd battalion, 6th Marines out of Camp Lejeune, North Carolina.

The Washams have two other sons in the military. One is in the Army and one is in the Air Force. Rusty was the youngest.

Rusty Washam's company was scheduled to return to the states in March



Corporal Rusty Washam -- His Final Ride Home

A BUZZFLASH READER CONTRIBUTION

by A BuzzFlash Reader

Tuesday was a situation where I felt out of control. I had seven people meet me at Chilhowee Park, here in Knoxville, to ride with me to escort Corporal Rusty Washam, of Huntsville, Tennessee, who would be arriving around 1:30 p.m. EST. We were ready to go, and then I got a phone call. Rusty would not be arriving until 8:30 or so that evening. I was disappointed, but understood. I had seven individuals waiting for word, and ready to leave from places like Kentucky, Illinois, Virginia, Johnson City, Tennessee and Maryville, Tennessee. I know the great distances these people rode/drove to arrive, only to find out we were 7 hours early. The weather was not great either, however, the majority of them showed up on motorcycles ready to escort Rusty on his last ride home.

Four of us remained and were present when the airplane finally landed carrying Corporal Washam and his brothers. When we arrived, there was a bus load of individuals from Scott County; I would presume most of them were family. All of them departed from the bus to go to the outside terminal to await their loved ones. It was an emotional time, I was feeling pain for Mrs. Washam, Rusty's mother, and you could see the pain in the face of his father, but he had to be strong for his wife. Rusty's wife came, I believe, with her parents, it was heart-wrenching to see the pain this young woman had in her heart; she couldn't have been more than 20 years old, a widow, and the mother of two young children. And one tall young man approached each one of us, reaching out to shake our hands, and tell us how honored he was. I could not help myself, but gave this young lad the hug he genuinely needed. I later discovered that this young man was a cousin to Rusty and was deeply distraught.

When the time came for us to depart the airport, Airport Security cleared the lanes for us to leave. The Sheriff of Scott County, himself, was present to lead us back to Huntsville for what was called Rusty's Last Ride Home. I briefly spoke with him, and you could tell that there, too, was great pain in his heart.

Including the bus, there were ten vehicles, and one lone motorcycle, with our Randy Smith, from Mount Vernon, Illinois, a fellow member of Patriot Guard Riders and an American Legion Riders Post # 141, riding it. The temperature was slowly creeping to the low thirties; there is no telling what the wind-chill factor was. I quickly thought to have Randy to ride behind the bus, in hopes that it would break some of the wind from him so it would not be such a cold ride.

We got to the Interstate to take the 60+ mile ride back to Huntsville, and everything was going fine, except some people passed us like we were standing still. In my opinion, this is so thoughtless for these people to not have any respect for those who lose their lives to keep the freedoms that the protestors take for granted. This angered me deeply, until we got to the Knox County/Anderson County line, whereupon one individual, not with the original group leaving the airport, decided to take it upon himself to block traffic from passing us. You could see headlights in both lanes behind us for what appeared to be miles. But alas, our knight in shining car parts had to leave the Interstate, and that is where more thoughtlessness began. But all was not lost. A lone Tennessee Highway Patrolman nabbed the first person to sneak through, and followed him/her until they got off at the exit. Since I was behind them, I would imagine that the trooper had a few words to say to the operator of that vehicle on his loud speaker. The lone State Trooper stayed with us until we arrived in Huntsville.

Time came for us to get off at the Huntsville exit, where, to my surprise, there were several patrol officers (I would imagine from Oneida (city), Scott County and Campbell County) were sitting there waiting for us. Also present were four fire trucks and a couple of ambulances. Allowing them into the flashers on motorcade, we were next to the last in line and had one lone vehicle behind us, we continued on. The next 19 miles were the most awesome 19 miles I have ever traveled. By this time it was nearing 11 P.M. The closer we got to Huntsville, the more people we see lined up on the sides of the roads holding flashlights and candles. When we passed them, they joined in at the rear of the motorcade. Signs posted every 100 feet or so showing support for the family, exclaiming that Rusty was their hero, thanking him for his greatest sacrifice, thanking the family for the sacrifices they too, had made. Got to love those Tennesseans!

All flags along the way were flying at half mast. The line of cars behind us was growing in leaps and bounds; it seemed as if there was no end to the procession. People lined the streets for what seemed to be miles. It was as if the entire population of Scott County, Tennessee was at the disposal of the Washam family. And the children of these residents were present as well. Scott County High School, where Rusty graduated from was full of students, each holding a candle or a flashlight. I was completely awestruck. I've never, in my entire life, ever, seen anything like this. And believe me; I've been to plenty of military funerals since the war in Iraq began. It is a time I will never forget in my life, and I thank you, Jeff Sanders, Tennessee State Director for the Patriot Guard Riders, for giving me this opportunity to see what an outpouring of support one family had during their time of sorrow.

When we arrived in Huntsville, it was then that Kris reminded me that we had been there one time for a Veteran's Day parade, mourning the loss of residents who had fought in wars past. We were present for the dedication of a memorial they had built to honor these lost loves. I would imagine that Rusty's name will be on that wall before spring.

Rusty has two older brothers, also in the military, one being in the Air Force, and one being in the Army who was injured in Iraq only last June.


A community with so many serving our country laid to rest their first loss of this war Friday.

So many people attended the funeral of 21-year-old Marine Corporal Rusty Washam in Scott County, the crowd spilled into the church parking lot.

Washam was killed in Iraq on Valentines Day. The Department of Defense reports that a suicide car bomber attacked his vehicle.

Washam left behind a large family, including his parents, five brothers and sisters, a wife and two-and three- year old sons.

Friday, the community also became family, joining loved ones to mourn his death.

Of the hundreds who came to honor him, nearly half had to make seats out of the steps outside Fairview Missionary Baptist Church.

"He was a loving son, husband and father," a pastor's voice came across a speaker set up for those who couldn't fit inside the church. "He loved serving his country. He was a 2003 graduate of Scott County High School. He was an outstanding athlete, playing football for 3 years."

Many mourning for Washam realized their own son, husband or father could have met the same fate.

"Anybody that's been in the military, it's a thought," family friend Wanda Vann explained.

Some who served knew what happened to Washam could have easily happened to them.

"We were very fortunate to go over there and serve our country and come back," 278th Chief Warrant Officer Paul Buttram explained.

"It's kind of a sobering experience to think it could have happened to any of us," Sgt. Jim Morrow of the 278th said. "But it did happen to him, and it's sad."

Washam's two brothers are still laying their lives on the line for their country, as members of the Army and Air Force.

Dustin Washam, who was injured in Iraq last year, still expects to return.

Like his family, their community won't likely forget the youngest Washam's sacrifice.

"When one gets hurt, you've hurt everybody," Vann said. "When one cries, everybody cries because it affects everybody here."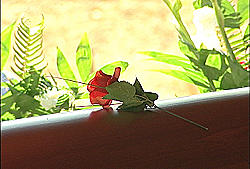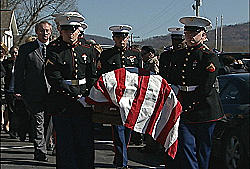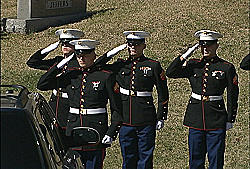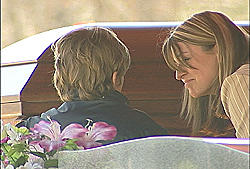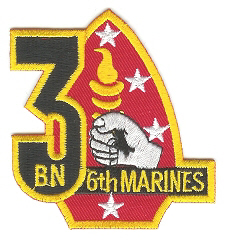 Cpl Rusty Washam

Class# 16-03

Rpt 3 Dec 03

Grad 17 Feb 04

Food Service Schools

FT Lee

http://rusty-washam.memory-of.com/